Some people think farming is old-fashioned.
Some people think farming isn't green.
Some people think farming is on the decline.
Think Again, Maine!
We all know that farming, fishing and forestry are far more than just dollars and cents. For many of us, it's our heritage, our passion and our way of life. It's also important to convey that these industries are modern, vibrant contributors to the region's economy. Combined, these industries generate more than $100 billion of economic activity annually and support more than a half-million jobs in the region.
Dairy production and related processing continue to generate the most economic activity. However, the northeast United States has a diverse range of natural resource-based industries, including fruit, vegetable, vineyard, nursery, greenhouse, forest products, commercial fishing and aquaculture, in addition to dairy.
• DAIRY: $34.6 billion / 120,349 jobs supported
• FOREST PRODUCTS: $24.2 billion / 106,686 jobs supported
• FRUIT & VEGETABLES: $14.3 billion / 81,631 jobs supported
• COMMERCIAL FISHING & AQUACULTURE: $5.8 billion / 42,256 jobs supported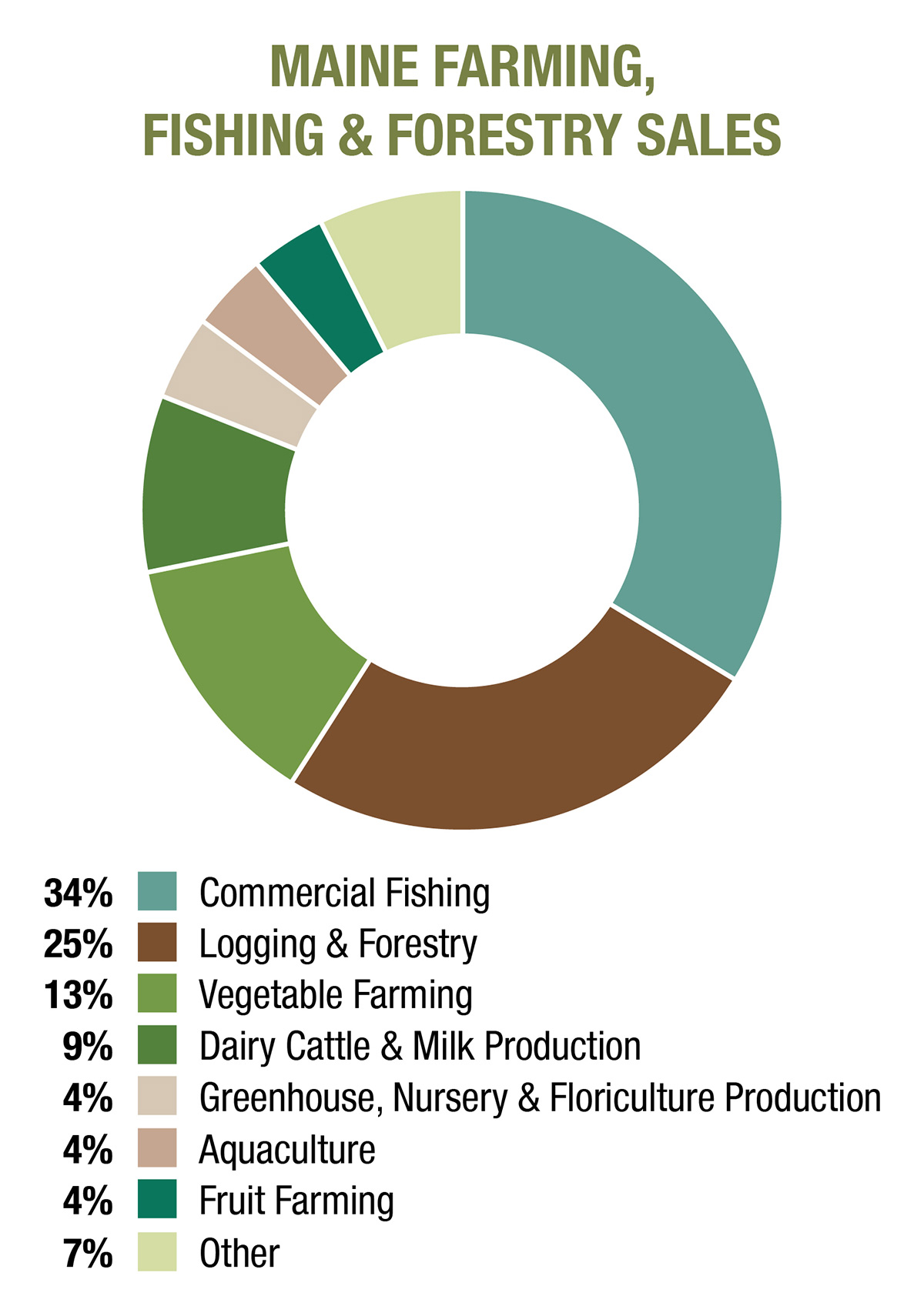 $11.7 BILLION IMPACT
• Maine has 7,600 farms and more than 1.3 million acres in farmland. Anchored by potato production, vegetable farming is the leading agricultural sector.
• With nearly 18 million acres of forest covering almost 90% of the state, the forest products industry is a major economic driver for the Pine Tree State. Forestry, logging and related processing support for nearly 32,000 jobs in Maine.
• Commercial fishing and aquaculture are also important to Maine, with $1.4 billion in economic impact and 12,188 jobs supported.
• Dairy products, wild blueberries, maple syrup, and greenhouse, nursery, and floriculture production are also important to the state.

Maine Economic Impacts
| SECTOR | DIRECT SALES | ECONOMIC IMPACT | EMPLOYMENT |
| --- | --- | --- | --- |
| AGRICULTURAL PRODUCTION | $ Million | $ Million | Jobs |
| Grain and Oilseed Farming | 26.3 | 50.6 | 579 |
| Vegetable Farming | 231.9 | 438.8 | 5,552 |
| Fruit Farming | 63.9 | 125.1 | 3,075 |
| Greenhouse, Nursery and Floriculture Production | 72.3 | 125.2 | 1,731 |
| Other Crop Farming | 42.0 | 80.7 | 2,253 |
| Cattle Production | 23.5 | 35.0 | 849 |
| Dairy Cattle and Milk Production | 154.5 | 265.1 | 2,063 |
| Poultry and Egg Production | 15.4 | 25.8 | 258 |
| Other Livestock Production | 16.5 | 24.6 | 666 |
| PROCESSING | | | |
| Grain and Oilseed Processing | 89.8 | 151.2 | 450 |
| Frozen and Canned Food Manufacturing | 635.6 | 1,027.3 | 4,409 |
| Milk, Yogurt, Butter and Cheese Manufacturing | 336.4 | 640.5 | 2,473 |
| Other Dairy Processing | 56.4 | 86.2 | 296 |
| Animal Slaughtering and Processing | 262.7 | 381.7 | 1,904 |
| Wineries | 22.8 | 37.9 | 196 |
| Ag Input Manufacturing | 65.4 | 106.2 | 309 |
| TOTAL FOR AG INDUSTRY | 2115.4 | 3601.9 | 27,063 |
| | | | |
| FORESTRY PRODUCTION | | | |
| Logging and Forestry | 426.9 | 654.6 | 7,631 |
| PROCESSING | | | |
| Sawmills, Pallet and Plywood Manufacturing | 977.1 | 1,970.7 | 10,931 |
| Pulp and Paper Mills | 2,341.2 | 3,950.4 | 13,433 |
| TOTAL FOR FOREST PRODUCTS INDUSTRY | 3,745.2 | 6,575.7 | 31,995 |
| | | | |
| SUPPORT ACTIVITIES FOR AGRICULTURE AND FORESTRY | 86.5 | 156.3 | 3,277 |
| | | | |
| FISHERIES AND AQUACULTURE PRODUCTION | | | |
| Commercial Fishing | 577.2 | 986.7 | 8,308 |
| Aquaculture | 64.1 | 95.6 | 2,594 |
| PROCESSSING | | | |
| Seafood Prepartion and Packaging | 193.2 | 289.9 | 1,286 |
| TOTAL FOR FISHERIES/SEAFOOD | 843.5 | 1,381.2 | 12,188 |
| | | | |
| TOTAL FOR ALL ABOVE SECTORS | 6,781.6 | 11,715.1 | 74,523 |
| | | | |
| LANDSCAPE SERVICES | 451.0 | 760.2 | 9,710 |