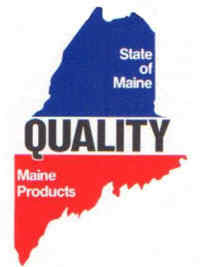 The Maine Potato industry prides itself on producing a high-quality product, whether that product is potatoes destined for your table, french fries, potato chips, or other processed potatoes. The Maine Quality Trademark is your guarantee that the contents are only the highest quality. In fact, before those potatoes can bear that trademark, they are inspected and pass requirements stricter than the United States Department of Agriculture's U.S. No. 1 grade. Just look for the red, white and blue State of Maine trademark the next time you're shopping for potatoes!
The Mighty Potato
A potato is a vegetable; Solanum tuberosumis the scientific name for the potato. A small plant with large leaves, it contains a lot of starch and other carbohydrates. The part of the potato that people eat is a tuber that grows underground.
In terms of nutrition, the potato is best known for its carbohydrate content (approximately 26 grams in a medium potato). A medium-size potato with the skin provides 27 mg of vitamin C (45% of the Daily Value (DV)), 620 mg of potassium (18% of DV), 0.2 mg vitamin B6 (10% of DV) and trace amounts of thiamin, riboflavin, folate, niacin, magnesium, phosphorus, iron, and zinc. The fiber content of a potato with skin is equivalent to that of many whole grain breads, pastas, and cereals. Learn more about potato nutrition here!
Culinary Uses
Potatoes are prepared in many ways: skin-on or peeled, whole or cut up, with seasonings or without. Most potato dishes are served hot, but some are first cooked, then served cold, notably potato salad and potato chips.
Common dishes are: mashed potatoes, which are first boiled (usually peeled), and then mashed with milk or yogurt and butter; whole baked potatoes; boiled or steamed potatoes; French-fried potatoes or chips; cut into cubes and roasted; scalloped, diced, or sliced and fried (home fries); grated into small thin strips and fried (hash browns); grated and formed into dumplings, Rösti or potato pancakes. Unlike many foods, potatoes can also be easily cooked in a microwave oven and still retain nearly all of their nutritional value, provided they are covered in ventilated plastic wrap to prevent moisture from escaping.
Other Uses
Potatoes are used to brew alcoholic beverages such as vodka, potcheen, or akvavit.
They are also used as food for domestic animals.
Potato starch is used in the food industry as, for example, thickeners and binders of soups and sauces, in the textile industry, as adhesives, and for the manufacturing of papers and boards.
Maine companies are exploring the possibilities of using waste potatoes to obtain polylactic acid for use in plastic products; other research projects seek ways to use the starch as a base for biodegradable packaging.
Potatoes in the United States
Potatoes arrived in the Colonies in 1621 when the Governor of Bermuda, Nathaniel Butler, sent two large cedar chests containing potatoes and other vegetables to Governor Francis Wyatt of Virginia at Jamestown. The first permanent potato patches in North America were established in 1719, most likely near Londonderry (Derry), NH, by Scotch-Irish immigrants. From there, the crop spread across the country.