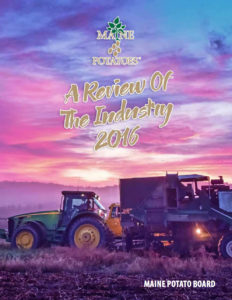 About the time we were still picking potatoes by hand and you wanted to talk to a farmer during harvest, you called the house and someone drove out to the fields…or the potato house… or just waited until the end of the day to call. Now, we're just as likely to call, email, or send a text message. And more than likely, the farmer will see the message long before he or she is done the day's work.
Technology and innovation have changed the way we plant, cultivate, and harvest potatoes. And technology and innovation have changed the way we communicate. Smart phones, social media, YouTube videos provide innovative ways for people to communicate with one another.
While every technological development spurs industry and company growth, consumers grow right along with it. Every step of the way, the consumer has become more knowledgeable, more savvy, and harder to market to through traditional means.
Read More – Download the Maine Potato Industry Cost of Production Report
Read More – Download the Maine Potato Industry Economic Impact Study
Read More – Download the Maine Potato Industry Economic Impact Summary
Read More – Download the 2016 Industry Report
Read More – Download the 2013 Industry Report
Read More – Download the 2012 Industry Report