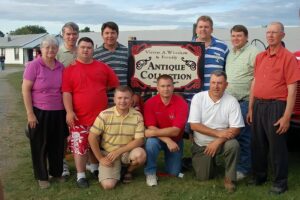 (PRESQUE ISLE, MAINE) – The Maine Potato Board has selected the Victor and Gloria Winslow family of Mapleton for the 2022 Maine Potato Industry Recognition Award.  This year's recognition is awarded under a new, broader category for individuals or families who have shown outstanding commitment and support of the Maine potato industry.
Walter E. Whitcomb, former Commissioner of the Maine Department of Agriculture, Conservation and Forestry said, "When you look across the Maine agricultural landscape it's hard to see a farm family that cuts as wide a swath as the Winslows. Their influence is statewide in markets that connect nationwide and worldwide."
The Winslow family has a long history in Maine agriculture, starting in the earliest settlements in southern Maine in the 1600s to five generations living and working on the family farm on a rocky hill called Creasey Ridge in Mapleton.  
Francis and Angeline (LeGrow) Winslow moved to Mapleton in 1859, clearing the land and farming hops and potatoes.  Willie and Ida (Chandler) Winslow were successful potato farmers, building the largest potato house in Mapleton in its day.  Alvin and Addie (McIntire) Winslow added commercial dairy cattle to the farm while continuing the tradition of potato farming.  Victor joined the farm after attending the University of Maine and completing active-duty training in the Maine National Guard, marrying Gloria (Monteith) in 1964.  Gloria also had family ties in agriculture with her grandparents, George and Eldena (Nylander) Ketch farming potatoes in Woodland and her grandfather Albert Monteith being a long-time potato dealer in Caribou.  
While farming and in later years, Victor worked in potato sales for the H.A. Pollack Potato Company, Maine Farmers Exchange, Maine Potato Growers, and Tri Winner Irving.  He was also involved in several industry-related business ventures including Crown Manufacturing, Crown Equipment, Aroostook Starch and CANUSA Foods.  Victor was an active supporter of agriculture as a member of the Central Aroostook Young Farmers Association, a 4-H leader, a member of the Maine FFA Alumni Association and a Trustee of the Eastern States Exposition in West Springfield, Massachusetts.  This is a tradition that continues with members of the family involved in numerous community organizations and in their local churches. 
Eugene "Gene" Cassidy, President & CEO, Eastern States Exposition, said, "It has been a privilege to be associated with Victor Winslow and his family. Victor has a keen sense of what is right and good. He has deployed his sensibilities for the benefit and advancement of Eastern States Exposition for more than two decades. I am proud of the association we have with the Winslow family."
The eight "Winslow Boys" developed their passion for agriculture while farming along-side their parents, aunts, uncles, and cousins.  According to Todd, oldest of the boys, "We were blessed to have generous parents and were brought up with a 'glass half full' perspective during a time of big changes in agriculture.  Dad always said you need to have a positive attitude about life.  I can still picture him talking with our grandfather saying farming had been tough for them, but agriculture was going to be very good for us boys, and they were right.  
"Although we did not have an opportunity to own and operate farms as adults, we were fortunate to grow up on the family's small potato and dairy farm.  As with most large families, often the boys were loaned out to neighboring farms and businesses to earn some spending money which was a great treat for all of us.  It was this upbringing that helped the family learn the value of hard work and appreciate the challenges and opportunities in agriculture."
Todd also shared how "the 4-H and FFA played a big part in our training with leaders like Paul Lynch, Gary Fox, Jim Dwyer, Clair Carter, and many others who invested in young people like us.  National FFA conventions and leadership conferences exposed us to national leaders, members of Congress and even Ronald Reagan and Bill Clinton for several of us in the Rose Garden at the White House.  Wow, what great experiences that helped shape our lives."
Beyond their parents, the brothers credit their passion and optimism about agriculture to the influence of many local role models over the years.  Frank, the second oldest brother, said, "These included industry leaders like Larry Thibodeau, Harold 'Jr.' Haines, Al Irving, Willard Doyen, Darrell Chandler, Ronald Guerrette, Harry McCall, Arthur Shur, Richard Kneeland, Gaylen Flewelling, Jay McCrum and many others who showed us the potential for leadership and success in agriculture.  Others were humble farmers and family friends like Donald Keirstead, Jack Buck, Vaughn Chase, Michael Umphrey, Dick Hall, and Raymond Todd who showed us the value of honesty and hard work."
Most of the brothers followed Victor's footsteps receiving agricultural degrees at the University of Maine and continuing to work in agriculture in Maine.  Todd studied dairy science before starting his career at Maine Potato Growers working in the dairy and then crop services departments.  He is currently a crop consultant with Nutrien Ag Solutions, working with potato and dairy farmers across the state.  Frank studied agribusiness and resource economics and then business at Vanderbilt University before starting his career as marketing lead for Monsanto's NatureMark potato business.  He returned to southern Maine in 2005, joining IDEXX Laboratories where he currently serves as senior director of operations for their livestock, poultry and dairy business, producing diagnostic tests used by farmers and veterinarians around the world.  
Lynwood, the third son, studied agriculture and resource business management before starting his career as a store manager for Agway in Vermont.  He returned to Maine to work in potato sales at Maine Farmers Exchange and then Tri Winner Irving.  He has been the long-term manager of Maine Potato Growers' truck and tractor division and a leader on the Northern Maine Fair Board.  Bert, fourth, worked for local farmers before attending auctioneering school.  He works for School Administrative District 1 as a bus driver and custodian, but is best known for his charity auctions around Aroostook County and his annual Halloween French fries.  Alvin, fifth, studied resource and agribusiness management before joining Frank in Monsanto's potato business early in his career.  He then completed a business degree at Husson University and spent a few years serving in campus ministry.  From there, he followed his passion for agronomy back to southern Maine working as a crop consultant for United Agri Products before founding Winslow Agriculture, a crop consulting firm that works with potato farmers across Maine.  
Gene, sixth, worked with Victor and Gloria establishing a trucking business hauling potatoes between Maine and New Brunswick and continuing the long tradition of harvesting flagstone from a quarry on the homestead.  He and Victor also collect and restore farm tools and equipment.  Noah, seventh, also studied resource and agribusiness management and then agricultural economics at Purdue University.  He returned to Maine as a technical representative for United Agri Products and then joined Maine Potato Growers as manager of commodity marketing.  He currently works at Irving Farms Marketing in Caribou in marketing and business development.  He was also involved in establishing the new agricultural science and agribusiness program at the University of Maine at Presque Isle where he is an adjunct instructor of agribusiness management and business administration.  Finally, James, the youngest, has Down Syndrome and lives at home with Victor and Gloria.  He always has a smile on his face and loves to celebrate birthdays and holidays with the entire family around.  
Lynwood concludes, "On behalf of the Victor and Gloria Winslow family, we are honored to be recognized by the Maine Potato Board under this new award for family leadership, advancement, and involvement in the industry.  We are also greatly humbled to follow the many exceptional farm families recognized in past years.  We see this new category of recognition as an acknowledgement that, while agriculture does not have as many farmers as in the past, it offers great opportunities for people to work in and support the industry.  Our family continues to have passion and optimism for agriculture and would encourage any young person to consider it as a career, where you can do something different every day and work with some of the best, hardest working people out there.  We thank the Maine Potato Board and the farmers of Maine who work extremely hard every day and have given our family this opportunity for recognition, and the opportunity to make our living doing what we love, working in agriculture."    
###