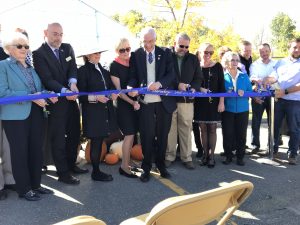 The University of Maine at Presque Isle marked the completion of its state-of-the-art, four-season Zillman Family Greenhouse with an official opening and dedication ceremony on Friday, Sept. 27. Work and learning in the new $935,000, 2,400-square-foot structure—which features a teaching classroom, two climate-controlled research labs, and a faculty office for the Dr. Robert Vinton Akeley Chair of Agricultural Science and Agribusiness—will begin immediately.  
"Today's greenhouse dedication opens a new horizon for our Ag Science Bachelor's degree program, providing our students with an incredible, high tech and hands-on learning space and our faculty with a dedicated spot for ag-related research projects. It additionally provides our community with a new resource for understanding greenhouse and growing practices, and the region's agricultural industry with a partner for tackling the issues farmers are facing out in the field," UMPI President Ray Rice said. "We are so pleased to see the Zillman Family Greenhouse officially open and thank everyone who helped to make it possible."
The greenhouse was funded completely through grants and many donor gifts. Dr. Don Zillman, who served as UMPI President from 2006-2012, and his wife Linda Zillman were the donors who provided the very first gift for the greenhouse.
"Five months ago, we gathered here for the greenhouse groundbreaking and the promise of a unique space that would support all manner of new growth," the Zillmans said. "It is so impressive to see how quickly this facility has taken its place on campus and we look forward to watching it develop and serve the campus and the greater community in the coming years."
In addition to support from the Zillmans, the greenhouse project has been made possible through several funding sources, including the Maine Potato Board and Maine Agri-Women.
 "With this greenhouse, we now have the ability to demonstrate many crop production techniques year around that will provide our students with an outstanding experience and knowledge of plant science," Jim Dwyer, UMPI's Dr. Robert Vinton Akeley Chair of Agricultural Science and Agribusiness, said. "Having such a high quality learning and research space allows our Ag program to better meet the educational needs of our students as they prepare for the workforce while simultaneously helping to meet the workforce development needs of our region."
Dwyer and UMPI's Ag students were among the many who were on hand for the greenhouse dedication event, which included the unveiling of the building's new sign, a ribbon cutting, and the ceremonial planting of Kennebec potatoes—a variety that was created by Dr. Robert Akeley—in The CFCU/Duncan Research Lab. Dr. Akeley, the namesake of Dwyer's endowed chair, was a Presque Isle native, father of donor Mary Akeley Smith, internationally known potato breeder, and leader of the United States Department of Agriculture's National Potato Breeding Program.
In addition to the festivities inside the greenhouse, the new John Deere tractor and Gator to be used for ag-related programming and composting efforts and the new DJI Inspire II drone for precision ag and mapping work were on display outside. All of this equipment was purchased through a gift from Mary Akeley Smith.
"We are so very grateful for and appreciative of all the businesses, organizations, and individuals who selflessly contributed to make this day possible," Dr. Debbie Roark, UMPI Executive Director for University Advancement and External Affairs, said. "Their belief in and support of this project will have long lasting and extremely beneficial impacts on The County and UMPI."
For more information about the greenhouse, please contact Dr. Roark at 207-768-9755 or deborah.roark@maine.edu.