Washington, D.C. – U.S. Senator Susan Collins met with several members of the Maine Potato Board (MPB) in her Washington, D.C., office who were visiting our nation's capital for the National Potato Council Fly-In annual meeting.  Senator Collins delivered remarks at the annual meeting to farmers from a range of potato-growing states.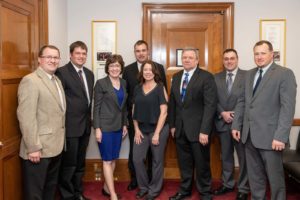 "I was delighted to meet with members of the Maine Potato Board and talk about this important agricultural industry," said Senator Collins.  "As a native of Aroostook County, I was fortunate to have grown up amid the values of hard work, determination, innovation, and common sense that define the potato industry and those who work in it.  I will continue to advocate for an industry that does so much for the economy of Maine and for the good nutrition of all Americans."
During the meeting, members of the MPB thanked Senator Collins for her continued support for funding for breeding programs and research, her work on the 2019 Farm Bill, and her advocacy on trade agreements that affect Maine's agricultural sector. 
As a member of the Agriculture Appropriations Subcommittee, Senator Collins is committed to ensuring that federal food policies recognize the value of this affordable and highly nutritious vegetable.  Through Senator Collins' leadership, the recently enacted omnibus includes $2.75 million–an increase of $250,000–for potato research, and $20 million for the USDA's Integrated Pest Management (IPM), which supports the work of the UMaine's Cooperative Extension Potato IPM program.  The bill also includes language to give schools greater flexibility to provide potatoes through the School Breakfast Program.
Earlier this month, Senator Collins and the Maine Delegation joined a bipartisan group in sending a letter to the Trump Administration calling for the U.S. potato industry be a priority in the ongoing trade negotiations with China.
The mission of the Maine Potato Board is to provide a competitive environment for our potato growers, processors, and dealers, creating stability and the infrastructure for future growth, while promoting the economic importance to the state and quality of the product.