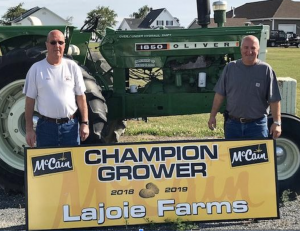 McCain Foods recognized its Top 10 Potato Growers Aug. 21 at its annual grower banquet at the Stone Ridge Event Center in Presque Isle. Over 300 guests were invited to celebrate the 2018 growing season and recognize the growers and their achievements.
Champion Grower selection is based on the highest standing quality of the following three delivery categories: field direct delivery, winter storage delivery and refrigerated storage. The 2018-2019 Champion Grower is Lajoie Farms of Cyr Plantation.
The LaJoies have been growing potatoes for McCain since the development of the company in Maine. Field manager Bart Bradbury estimated that they have hauled close to 60,000 truckloads of potatoes just for McCain in their 40 plus years of collaboration. Mike and Phil Lajoie have decided to move into retirement, and have ended their farming career with a lot to be proud of.
The Top 10 Growers, listed by delivery category, are as follows.
In the category of field direct delivery, Grass Farms of Mars Hill (Duane and Kevin Grass) were awarded first.  Second place in this category went to West Ridge Farms of Mars Hill (Garth and Trent Lundeen, and Ward, Taylor and Logan McLaughlin), and third place went to Griffeth Farms of Limestone (John, John Jr., Matt and Steven Griffeth).

In the winter storage delivery category, LaJoie Growers LLC took the top place (Gil, Dominique, Jay, Lucas and Sky Lajoie).  Second place in this category went to Dana Morrell of Caribou (Dana and Dana Morrell Jr). Third place was awarded to County Super Spuds of Mars Hill (Darrel and Nick McCrum).

In the refrigerated storage category, first place was earned by Snow Road Farms of Bridgewater (Derek Kilcollins and Wayne Bradbury). Second place in this category was awarded to Landeen Farms of New Sweden (Michael and Shawn Landeen). Third place went to B.D. Grass & Sons of Blaine (Brent and Neil Grass).
At the growers banquet, Allison McCain, chairman of McCain Foods Limited, personally congratulated each of the winning growers and greeted all of the farmers and their families in attendance. In his address, McCain commented on the value of the growers and recognized their endurance through tough times, as well as their drive to improve.
Other McCain management on hand to congratulate the growers included Christine Wentworth, vice president of agriculture North America; David Good,director of ag supplier relations NA; Dale McCarthy, vice president of integrated supply chain GNA; Dave Giroux, Easton plant manager; and Bart Bradbury, field department manager.
Leigh Morrow, director of agronomy East, received special focus as he has announced his retirement after 22 years of working with McCain in addition to several more in the potato industry. Morrow thanked all the growers for their cooperation over the decades. He will retire this October. Jim Clark was also recognized for his retirement after 32 years. 
Participants in the Young Grower Development Program received thanks for their willingness to learn. Chris Flewelling, Joel Guerrette, Logan McLaughlin, Jordyn Madore, Zachary Pryor and Mason Turner attended a two-day event of education and touring, to strengthen future relationships between McCain and growers, and to establish a better understanding of how best to work together.