Feb. 15, 2019 – Congratulations to the Gerritsen family and their Wood Prairie Family Farm! They received national recognition in January as they were awarded the 2019 "Green Thumb Award" for  introducing America's top 2019 edible plant.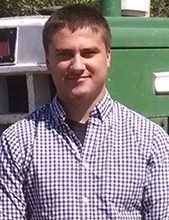 The nationally-recognized organic seed farm was awarded a 2019 DGA Green Thumb Award for The Wood Prairie Organic Colossal Potato Collection, judged to be one of this year's two best edible plant introductions in the United States. This marks the second year in a row that Wood Prairie Family Farm has received a coveted Green Thumb Award.   One year ago, Wood Prairie's The Organic Potato Plant Detective, was awarded a 2018 Green Thumb Award, similarly in the Edible Plants Division.

Winners of the 2019 Green Thumb Awards were selected by an independent panel of garden writers and editors. Winners were selected based on uniqueness, technological innovation, ability to solve a gardening problem and potential appeal to home gardeners.

Wood Prairie Family Farm is a second-generation organic farm which has seen members of  the Gerritsen family growing seed organic crops for over four decades.   Three years ago, Caleb Gerritsen took over the farm and mail order business from his parents, who started the Maine farm in the 1970s.  The farm continues to focus on the production and direct-marketing of MOFGA-Certified Organic Maine Certified Seed Potatoes as well as organic vegetable and grain seed.  

2019 marks the sixth time Wood Prairie Family Farm has earned a Green Thumb Award.

"While there are over 4000 potato varieties in the world, those that are grown commercially number only in the hundreds," said Caleb Gerritsen.  "The score of potato varieties we grow and sell as Maine Certified Seed Potatoes are the success stories from our family's decades of organic grow-out trials.  We're very grateful that our unique collection of outstanding organic potatoes has been held in esteem by the judges and awarded this honor."
During the many decades it has grown seed potatoes, Wood Prairie Family Farm has subjected potential additions to its organic potato collection to two critical criteria: 
1) the potato must taste good, and
2) the potato must grow well under organic conditions

Wood Prairie Family Farm is located in Aroostook County, Northern Maine's historic center of potato farming. For over 40 years, the Gerritsen family has been farming organically and growing the finest potatoes, seed and vegetables. Wood Prairie Family Farm's organic seed potatoes, kitchen potatoes, vegetable and cover crop seeds and other organic products are available direct to the customer by mail order from its website and catalog. The farm ships year round to loyal customers in all 50 states.