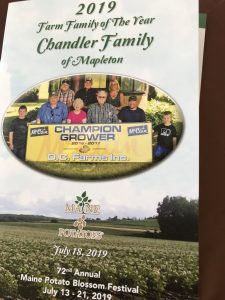 Congratulations again to the D C Farms family of Mapleton, the Chandlers, who were recognized as the 2019 Farm Family of the Year at the MPB annual meeting held in July.
Congratulations as well to Curtis Harrison, who was recognized as the 2019 Young Farmer of the Year. Both recognitions are well deserved, and we appreciate the leadership, commitment and professionalism demonstrated by this year's recipients!
A very special thank you to Bruce and Val Flewelling who so graciously hosted the MPB Annual Meeting at their home in Easton. Thank you, Val, Bruce, your family and employees, for all the extra work making 300 people feel at home!
And none of the annual meeting would happen without the calm, organized and pleasant demeanor and skills of Jeannie Tapley, who keeps us all in working order! Thanks again, Jeannie, for all you do for the Maine Potato Board and the whole industry. Every thanks you receive is sincere and well-deserved.