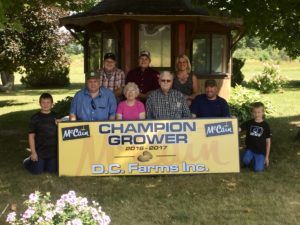 (PRESQUE ISLE, MAINE) – The Maine Potato Board has announced the Chandler family of D C Farms in Mapleton as the 2019 Farm Family of the Year. Darren, along with his brother David, farm primarily in Mapleton and Castle Hill. Darren and David's father, Darrell Chandler, is retired but still is available with advice and a keen view of the family history in the region.
Darren and David are the sixth generation growers in the family, following their father Darrell, grandfather Forest, great-grandfather CGR, as well as those coming before. Forest Chandler, in particular, was well-known throughout the county and the country, having graced more than one industry publication as well as being on the cover of Country Gentleman in 1950. Forest lived to be 100 and would be proud to see his independent and progressive family members carrying on his legacy.
Darren lives "just up the road" from the homestead with his wife Terri and sons Hunter (13) and Parker (9). David lives in the original Forest Chandler home; David's son Joshua works full-time on the farm and son Zachary is employed elsewhere. Darrell and his wife Marilyn also live just across the lawn from the original home.
Darren and David farm 1700 acres; they raise 500 acres of potatoes for processing, with another 1200 acres of grains. The family was selected as McCain Foods Champion Growers in the 2016-2017 year.
For the last decade and more, the Chandlers have subscribed to a three-year rotation plan. "We've seen what this program provides us with," said Darren. "Not only does it make for healthier soil, but we've seen our yields increase and the quality of our crops raise to a challenging standard. It's what good farming practices are all about. We are good stewards of our land, and as the old saying goes – take care of your land because they aren't making it any more." Darren attributes good planning by his father and grandfather in acquiring farmland in proximity to land already owned in the family, allowing him to farm his needed acres without a lot of time traveling.
Darren is optimistic about the future of the Maine potato industry. He noted that today's growers are using technology to improve their efficiencies and to support and advance the industry, in whatever manner they can. "Shared knowledge and skills will benefit all involved in the Maine potato industry, whatever role they may play," he added.
Asked for any bits of advice for younger growers, Darren said, "Stay healthy, take care of yourself. It can consume you, but don't take it home. Remember how you feel as you operate your tractor all alone out in that field, in control. We're lucky. Being a potato grower is not just a job, it's a way of life. Appreciate your opportunity."
Darren added, "My family and I are honored to represent the Maine potato industry's many farm families. It is my pleasure to accept and to share this recognition with my brother David and all our family."  
"The Chandler family is great representatives of our Maine potato industry," said Donald Flannery, executive director of the Maine Potato Board.  "We will enjoy sharing this well-deserved recognition with Darren, David and the entire Chandler family."