(PRESQUE ISLE, MAINE) The Maine Potato Board has announced that Curtis Harrison of New Limerick has been selected as the 2019 Young Farmer of the Year.
Curtis is the son of Paul and Karla Harrison, also of New Limerick. Curtis and his wife Sarah have two children, son Chauncey, age four, and daughter Ruby, age two. Curtis operates Nightingale Farms with his uncle, Frank "Buzz" Nightingale. Nightingale Farms was established by Curtis's great-grandfather, who moved to New Limerick from Fort Fairfield generations ago. Curtis is a 4th-generation grower and looking forward to one of his children being the 5th generation in the future. His grandmother, Norma Nightingale, still lives on the farm and plays a daily role…even delivering coffee and homemade treats daily!
Following high school, Curtis earned degrees at Northern Maine Community College in computer-aided-drafting (CAD) and residential construction, along with gaining proficiency in welding. Curtis had worked on the farm while growing up, but following completion of his academic programs, he worked in the drafting field for a year and then the opportunity presented itself to go back to the farm.  And he hasn't looked back. "I use my welding and carpentry skills I learned at NM on an almost daily basis here on the farm," added Curtis.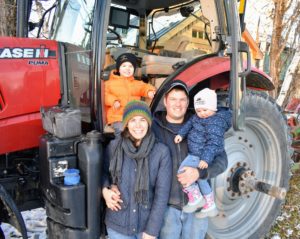 Curtis explained that as a young farmer he has also learned a host of skills, including agronomy, the financial side to farming, and personality characteristics, in managing farm workers.
Realizing the importance of giving to his community, Curtis is involved in activities at his local church and is a member of the SAD 70 (Hodgdon) school board.
Nightingale Farms raises 300 acres of seed potatoes and another 300 acres of oats and other grains.  "We know the importance of maintaining healthy soil for the sustainability of our farming operation," said Curtis. "We strive for and are close to realizing a three-year crop rotation on our land."
"I always worked on the farm while growing up," said Curtis, "and I hope my kids will also.  No better place to learn a strong work ethic."
Changes in technology are enhancing the work of today's growers, according to Curtis. Whether it's equipment, storages, smartphones or home office computers, most everything is bigger, more efficient, more beneficial for the grower.  "For example," said Curtis, "We use a grid system to better analyze and define soil needs in order to spread lime where and how much is needed. This system is more efficient and more economical than conventional methods. Today's tractors, planters, sprayers, spreaders are technologically amazing and have more creature comforts. So much equipment has become more precise, whether it be seed cutting equipment, fertilizer spreaders or remote controlled bin pilers-it all adds up to increased efficiently and decreased waste."
What does Curtis see in the future for Maine's potato industry and young growers?  "We have definite strengths. I see a good future for the Maine potato industry. We are seeing some good things happening. Yields are up, despite some dry growing seasons, in part because of efforts taken because we ensure we keep our soils healthy. There's a great group of men and women who provide resources to the industry, and we have the weather and water to produce fine crops …and I would add to young growers, don't worry about things you cannot control, like the weather. Deal with one thing at a time. Like you eat an elephant: one small bite at a time! Use all the resources available as they are all there to help us meet the challenges which drive our industry forward."
Curtis enjoys the sense of community that farming brings and appreciates the knowledge gained from other growers and industry leaders. He feels honored to be selected as the 2019 Young Farmer of the Year. "I would like to give a special thanks to all the people that have helped and supported me on the farm," he added.
Don Flannery, executive director of the Maine Potato Board, expressed confidence and enthusiasm for the industry's newest "young farmer" honoree. "The selection of the Young Farmer of the Year covers a number of criteria, and Curtis rates high in all of them," he said.  "We're truly pleased to recognize Curtis as an industry leader. He's an excellent representative of the future of the Maine potato industry."
The criteria for honoring a grower as the Young Farmer of the Year includes:
Forty years of age or younger
Have outstanding farming practice
Show growth and advancement in their farming operations
Leadership within the industry
Involvement with MPB activities
Willingness to explore new methods, technologies and advancements in the potato industry
Participation in the local community, church and other civic groups
The 2019 Young Farmer of the Year will be recognized and honored at the Maine Potato Board annual meeting during the July 2019 Potato Blossom Festival.
-###-